The construction machinery sector is constantly evolving, with the search for more efficient, versatile and sustainable solutions to modern construction needs.
In this context, excavators stand out as compact yet powerful machines, designed to tackle a wide range of construction and excavation work.
One of the most striking features of the excavator is its compact size. Making it a machine that can easily access confined spaces and urban areas, ideal for city work, residential construction sites or renovations. Small size and astonishing performance.
The heart of any excavator is the engine. Equipped with a diesel engine, this excavator offers the power to tackle a variety of tasks, from soil removal to heavy material handling. The engine is designed for efficient operation and reduced emission of harmful gases, thus contributing to environmental sustainability.
One of the main characteristics of this type of compact excavator is its versatility. This excavator is equipped with an adjustable boom and bucket, which makes it easy to adapt the machine to different jobsite requirements. With a long digging radius: it can handle a wide range of tasks, from preparing the ground to creating trenches for pipes or foundations.
Compact excavators can be combined with outstanding performance. Its versatility, power and operator comfort make it an ideal choice for a wide range of construction and excavation work.
Details of the hydraulic system designed by HANSA TMP
HANSA TMP with its extensive experience in the field of hydraulics applied to construction machinery proposes an integrated solution.
The benefits of the system proposed by HANSA TMP are many:
Compactness
Reliability
Reduction in consumption
A single partner for on-board hydraulics
Product specifications
Axial Piston Pump for Closed Loop System- TPV Series 1300 – 1500 – 2500
Displacement: 6-38 cc/rev
Max Pressure: 500 bar
Controls: idraulico, elettrico, feedback, automotive, power control
Features:
High rotation speed
Compact design
Possibility of mounting multipl pumps
Options
Conversion flange from SAE A to SAE B
Conversion coupling from Z.9 to Z.13
Conversion flange from SAE A to SAE B + Conversion shaft from Z.9 to Z.13
Flushing valve
Screw by-pass
Perforated screw by-passø0.8 for DMS control pumps
Screw by-pass (rotated position of 180° – lower)
Man on board (only SHI – SEI servo versions)
Axial Piston Pump for Open Loop System: E-PSVD Series
E-PSVD series pumps are developed most suitably for 2~5ton mini excavators. This E-PSVD pump consist of 4 elements:
2 piston pumps,
1 gear pump,
1 gerotor pump.
Light weight, simple structure, and reduced number of parts.
Low noise and low pressure ripple by excellent, Swash Plate and Valve Plate design.
Short total length ensures the pump fit small engine room.
One common suction port is devided into 4 pump suction area in the case.
No case drain port
Long life
1. Pilot pump and relief valve (30-50 bar) are installed as standard.
2. Selection of gear pump displacement is option.
Displacement: 0.16-77 cc/rev
Max Pressure: 250 bar
Optional: valvole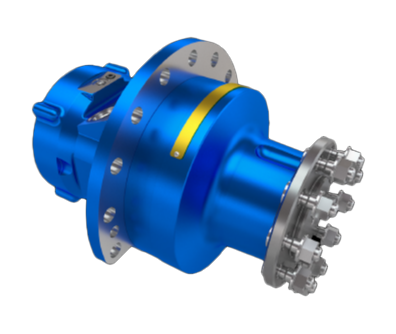 TMR05 motor offers a truly modular multi-lobe cam motor design with a wide variety of standard options to suit multiple drive systems. Cam motor TMR05 offers displacements of 376cc to 5010cc/rev.
2-speed option
Parking brake option
5 displacements per frame size
Shaft up vent port option (4)
Wheel and Shaft output options
Heavy duty dirt excluder
Directional Valves & Remote Controls
Monoblock valves
Sectional valves
Valves for special applications
Pressure pre-compensated Load-Sensing and Flow Sharing valves
Hydraulic remote controls and Feed units
Pneumatic remote controls
Flexible cable remote controls
Pressure: 250 ÷ 420 bar